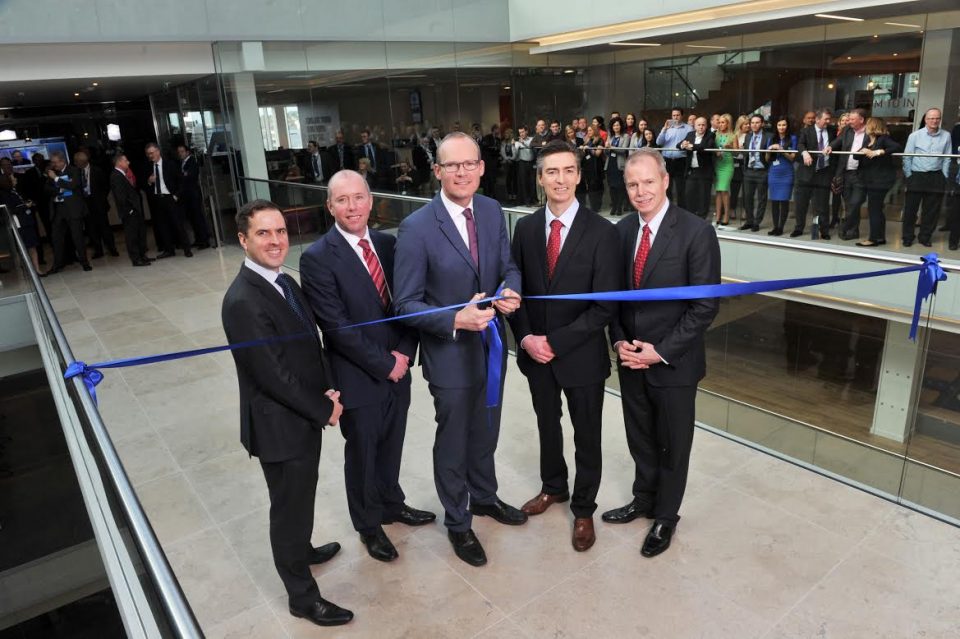 <img class=" addthis_shareable" src="http://www.irishexaminer.com/remote/media.central.ie/media/images/c/CommPropTyco_large
online viagra cialis
.jpg?width=648&s=ie-377407″ alt="" width="648″ />
That's according to Donal Sullivan, a Tyco vice-president and General Manager of the Irish arm of the 57,000-employee strong fire safety, security, and controls company. It has revenues of $10 billion a year, offices in 50 countries — and, its global board will now gather four times a year for board meetings on the top floor of the leading-edge Irish office building, One Albert Quay.
On a walk-through this week, and as the building's fit-out steps up a gear with 300 construction workers and finishers busy on site, Mr Sullivan described the landmark Cork office building to be anchored by Tyco, as "a dream come true. It's better than ever envisaged, and there are new features to admire on every visit."
Set to be fully-let on completion in the coming weeks, and already sold as an investment to Green Reit for up to €58 million with a rent roll close to €4m, it will accommodate FDI, IT, and professional firms, with many of the multinational jobs new to Cork.
Other tenants include financial services giant PWC, Investec bank on the ground floor, engineering, design and consultancy firm Arup, as well internet security firm Malwarebytes, currently at Lapps Quay, as well as Ardmore Shipping Corporation, currently 'landed' in JCD's City Gate in Mahon pending a move to One Albert Quay.
Equally positive, the offices at City Gate, Mahon, being vacated by Ardmore and Tyco, are already accounted for, reveals developer John Cleary, with a new-to-Cork FDI arrival there yet to be confirmed and announced by the IDA.
Negotiations are continuing on remaining space at JCD's signal city centre development (about a half floor left), via agents DTZ and Savills; also to be selected is an operator for a ground floor cafe.
Brook Food Services are retained as caterers for Tyco's own top floor employee bistro/dining room, which has cashless billing, and access to a large roof garden. A meeting room/entertaining 'pod' is due to be craned onto this roof garden space in the next fortnight, as a building equivalent of 'the cherry on top'.
Tyco's GM Donal Sullivan has described the facilities as "like a five-star hotel — and you get paid to be here. It's Ireland's best and most advanced commercial building, we'll keep updating the technology to keep it smart: it will be the smartest building in the country, next to the tallest building in the country".
That west-facing roof garden, with Elysian and Webworks views, to City Hall a block away, and with further views west to County Hall, is expected to be used year-round for breaks and break-outs, meetings and entertaining, while Tyco's other floors also have generous, secure exterior spaces and their own internal 'open' stairwell.
Lower down the western facade, by the building's recently-added distinctive vertical shading fins, Arup also have a west-facing balcony, abutting the old, limestone Albert Quay House.
Every corner and every section of the top-spec, large floor plate building (c 31,000 sq ft per floor, with above-standard 2.9m ceilings) has views, spanning the River Lee, Port of Cork, St Lukes Cross, into the Elysian's one-acre raised garden, and back over the South Mall to the city centre and beyond.
"It shows how compact, and accessible, Cork's city centre is," notes John Cleary adding that also visible from this new quayside arrival is the flight approach to Cork Airport, whence FDI execs and future Cork jobs will arrive, with One Albert Quay as a calling or boarding card.
On a day-to-day basis, the building is close to bike stops, park and ride, multi-storey car parks, and bus and rail stations. Tyco's new employees are looking at rail commuter options such as Cobh and Mallow, as well as living in a range of city and suburban settings: the lower cost of living in Cork is better for business and for employees, notes Mr Sullivan.
And, JCD's John Cleary points out that rents for his Grade A building in Cork city centre, averaging €27 psf, are half of those in new-builds in Dublin, where rents are now set to go over the €60 psf level.
The unstinting John Cleary Developments (JCD) building which easily meets Gold LEEDS standards and is 36% more energy efficient over its life-span as a result, is set to impact not just on its tenants, likely to fill with 1,700 jobs, but will also act on a wider scale, with a clear economic uplift and enhanced profile for Cork's city centre, and its expanding Central Business District.
It's almost two years to the day (January 27, 2014) since Tyco, through GM Donal Sullivan, committed to expanding its workforce in Cork city, signing up for 75,000 sq ft at this building of suitable scale, and that deal was the spur to JCD to go on site (September 2014) in the most significant city office scheme since City Quarter a decade ago, and on an investment par with Opera Lane.
Tenants here include Tyco on floors six, five and four, with an entry reception and space on half of floor three, leading to a sky-bridge spanning the full-height atrium on floor four, and its workforce is set to hit 700 in the next two years.
Apart from all its other functions, the building is both test-bed and showroom for Tyco technology, from access controls (car reg scanners, bike counting, room booking, buttonless lifts, 'no invite/no access'controls, and a host more Tyco-based technologies: "It's the most integrated building in the country," says Mr Sullivan, and Tyco will fly in future customers from around the world to see it at work.
Construction was by BAM, who've previously partnered JCD at Mahon's office parks, with more than 360,000 sq ft developed albeit on greenfield sites, and BAM will also start on the same developer's next city development, the Capitol cinema site €50m development, which includes retail, food uses, and 30,000 sq ft of offices. It's set to prove a catalyst for renewal along St Patrick's Street and Grand Parade.
Architects for the largely-glazed One Albert Quay office block, on a three-quarter acre site, are Henry J Lyons, project managed here by Pat Hogan, and much of the construction was arranged off-site, with steels by Noel C Duggan, pre-cast lift shafts and concrete works by Carlow-based O'Neills. The highly energy efficient glazing is from France, via Carey Glass Nenagh, with the largest panes to the front up to three-quarters of a tonne each.
Work on the €50m build started in September 2014, and it finishes in February 2016, right on schedule, to the day promised, and right on budget.
One-off houses have taken longer to build, and this seamless project involved demolition on the old Doyle warehouse building, excavating a double basement for 157 car parking spaces, and construction of the seven story, Grade A office Gold LEED block, on a water-fronting urban site. It barely caused a traffic jam in the rapid-build period.
Letting agents are Savills and DTZ, who describe its success as a game-changer for Cork: "We need more buildings like this, if we have others, it will bring the occupiers," they say.