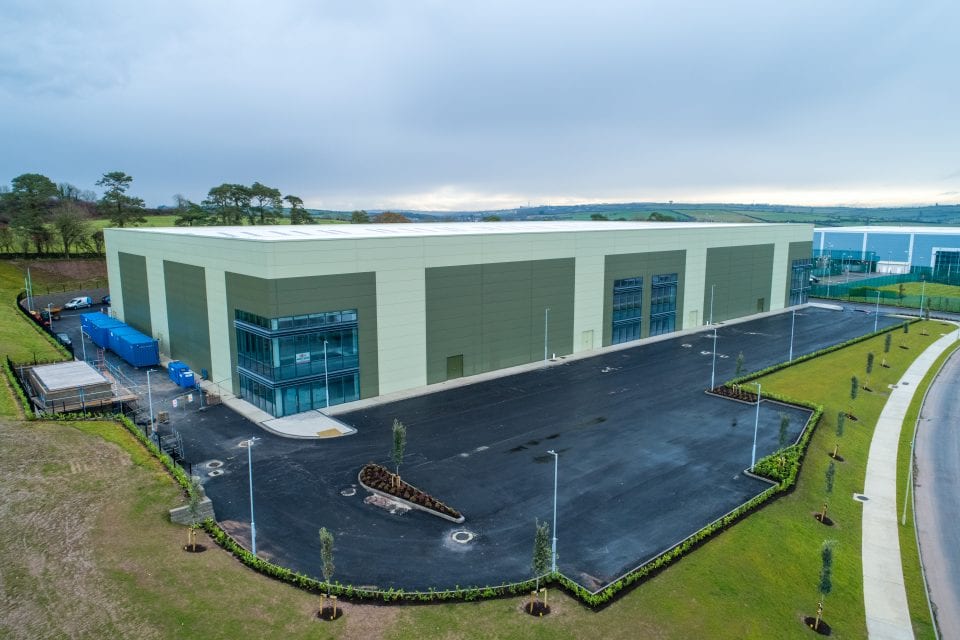 Investment worth a further €10m is set to flow into Cork's Blarney Business Park, in a significant speculative drive forward by the park's new owners, JCD Group.
They pledge to invest further sums and to develop "all the land at the campus in the next two years: this investment will help Blarney Business Park to realise its true potential as a major economic driver for Cork city."
The park's recently commenced phase three and four will comprise two further buildings, one of 60,000 sq ft, the other of 12,000 sq ft to launch in March and May of 2020.
This current €10m outlay comes on top of JCD's €10m initial investment, which included the unconfirmed low-key €2m purchase of 50 acres at the strategically-located park. It's set north of the city, by Blarney's Stoneview, the Cork-Limerick N20, the Cork/Mallow/Dublin rail line, adjacent to a proposed park and ride.
The €20m spend to-date by JCD signals a dramatic turnaround of fortunes, and activity, and future, at the Blarney Business Park, which was initially commenced in the early 2000s by developer John Bowen of Bowen Construction, with local Blarney business interests.
At the time, it was slow to take off in the face of competition from the likes of Eastgate, successfully secured users like a NCT centre and Brinks, but in the bigger picture lay largely mothballed during the long years of the downturn.
However, by 2015 and the start of the economic recovery, individual buildings ear-marked for a multi-dealership motor mall saw successful resales and new users, and JCD then acquired the balance of the remaining Blarney Business Park lands in 2018.
n 2018 JCD completed a 51,000 sq ft Grade A high bay warehouse/light industrial warehouse, fully let before completion. A larger, c 60,000 sq ft build was completed, now also fully let. Among the significant tenants attracted were logistics firm GLS and tech/engineering firm ILC Dover, both of whom relocated to Blarney, from Little Island.
Contractors Summerhill Construction are currently on site on the Blarney Business Park's two next buildings. According to a JCD spokesperson, while they are being built 'on spec,' "negotiations on the occupation of both are currently at an advanced stage."
JCD's John Cleary says the Blarney site "is one of the few locations in Cork city that is suited to the growing demand for buildings of scale for manufacturing, logistics, storage and commercial use. Given its campus-type setting and the demand for best in class sustainable premises as well as its access to existing infrastructure, Blarney has proved itself to be an excellent location to support business growth."
Existing occupier Owen Curtin of internationally-trading Healthcare21 rates the location highly and says it's "perfectly suited to access the road network, while avoiding traffic that impacts other sites of similar scale."
The Blarney park is a further string to the JCD commercial property development and investment bow, with the company having sites for developments as diverse as industrial/logistics, a data centre site at Little Island and several city-centre office schemes, including Penrose Dock, where Grant Thornton were recently signed up as headline occupiers of a penthouse level in one block.
Separately, in a significant foray into residential, JCD are also in the planning process for a Cork city centre 200-apartment, €90m investment in a 25-storey 'build to rent' tower on the Sextant/Careys site by their One Albert Quay office block.
On the Blarney development, JCD MD John Cleary says development there "will help Cork to continue to compete for foreign direct investment, help to build on the existing significant occupier base and become a key employment hub for the now enlarged city, particularly given the proposed M20 motorway, Stoneview railway station and park and ride".
By Tommy Barker – Irish Examiner