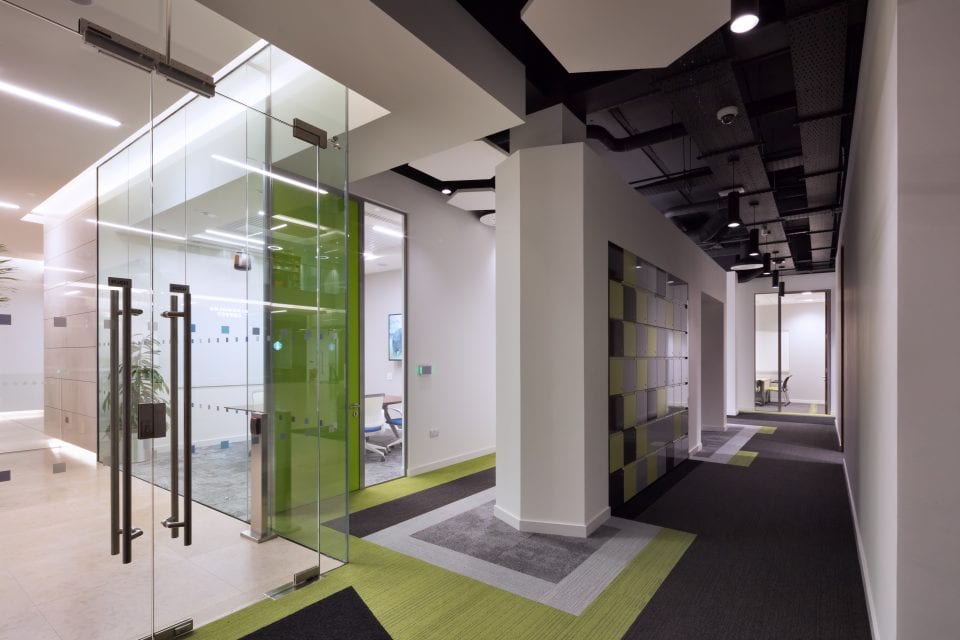 Standing on the outdoor roof-top terrace of the rapidly completing 250,000 sq ft Penrose Dock office scheme on Cork's North Quays docklands, developer John Cleary looks south over the River Lee, and then downriver, to the east. The JCD group MD says,"over there was the last 15 years….and down there is the next 40 years."
It's a pithy summary of the new development vista that is taking shape, in tranches, as Cork's Docklands mark 11 gathers pace and currency. A number of key office occupier commitments are being made for early 2020 in the JCD-developed Penrose Dock.
FLEXI WORKSPACE
Meanwhile, just confirmed as taking 28,000 sq ft at the Wilson Architecture-designed JCD Group's 250,000 sq ft Penrose Dock, which will be anchored by Grant Thornton, is Flexi Workspace. It's a new 'landing pad' offering from JCD that gives new arrival and upscaling companies the option of taking Grade A office space without signing a long-term lease, or investing upfront in a costly fit-out.
It's an evolution of a highly successful 'flexible touchdown space' in various developments JCD have completed in Cork, mainly for new FDI companies and those in the IT/cyber security sectors.
Companies can get spaces for between five to 100 people, with flexible professional services and amenities reserved for long-term occupiers, and who can also transfer to a long-term lease arrangement and avail of an 'anytime break' option to move to a larger JCD-owned premises.
John Cleary says "Flexi Workspace meets the growing demand from businesses for different leasing options. It is a growing international trend, with more developers of larger office schemes allocating a specific amount of space to flexible offices — such as Flexi Workspace — which broadens the offering and creates a desirable mix in the overall scheme.
"With a significant amount of existing and new companies looking to invest and grow in Cork, Flexi Workspace allows them to avail of state-of-the-art office space, with flexibility that allows them to grow or scale-up as they choose."
Taking 12,000 sq ft at penthouse level, Grant Thornton are to relocate from 14 South Mall, and Naturally Nourished, which has a presence at JCD's City Gate in Mahon, will open a 2,500 sq ft cafe at ground level by a public plaza linking pedestrian routes from the city centre and MacCurtain Street to Kent rail station, alongside the new BAM/Clarendon HQ scheme on Horgan's Quay.
Tenant mix will be professional services, as well as tech/FDI, while a gym operator is also currently being selected. John Cleary says negotiations "are at an advanced stage with a number of other potential tenants, with overall completion by mid-June 2020," and conservation of the original Cork Steam Packet building will then follow.
Meanwhile, the last of the 250,000 sq ft office development's three tower cranes, a 50m one thrusting up through the eight-storey-over-ground Penrose 2, near the dizzying, full-height internal atrium, is due to be removed on Saturday January 4, with the overall, over-basement build project undertaken by contractors, PJ Hegarty's: the final concrete floor pour on building one was scheduled for December 12, and came along, to the day.
The on-schedule, €125m project — capable of hosting 2,500 employees — continues a rapid delivery: planning permission was first sought on May 15, 2018, a planning grant followed by October 15, and construction started within days of that.
Separately, An Bord Pleanála, earlier this month, rejected an appeal against two further, similar-scale buildings of six and seven floors at Penrose Quay, for Bandon-based Karamex Ltd, associated with the O'Leary family.
JCD's 'next' city development deadline looks now to be February 26, when a planning decision is due on a 200-apartment, 25-storey 'build to rent' tower on the Sextant bar/Carey Tool Hire site, looking back over the river and the Port of Cork site, to Penrose Dock and evolving north quays.
For more information on Flexi Workspace, CLICK HERE
Tommy Barker
Irish Examiner
18th December 2019